LNR is targeting a new rare earths discovery
Disclosure: S3 Consortium Pty Ltd (the Company) and Associated Entities own 23,923,582 LNR shares and 9,250,000 LNR options at the time of publishing this article. The Company has been engaged by LNR to share our commentary on the progress of our Investment in LNR over time.
Funding is complete, and the drilling plan is set.
Today our WA rare earths exploration Investment Lanthanein Resources (ASX:LNR) confirmed a forward plan for drilling two types of targets at its project over the coming months.
Following a recent capital raise, the $24M capped LNR now has about $6.2M in the bank.
LNR is going to use that to deliver 10,000m of RC/diamond drilling in the Gascoyne region of WA over the coming months, with the hope of delivering a new rare earths discovery.
With rare earths being a hot topic globally, explorers are rushing to make new discoveries.
The only way to make a discovery is by drilling, so we are looking forward to the coming period for LNR.
LNR is in the right neighbourhood for a rare earths discovery - it has ground literally next door to the $400M capped Hastings Technology Metals, and also nearby is $310M capped Dreadnought Resources.
LNR's drill program will be targeting the same host rocks as its two larger capped regional neighbours:
Outcropping shallow ironstones and
A deeper carbonatite structure.
For some context:
Ironstones are the style of host rock that hosts Hastings' Yangibana deposit - this deposit is widely tipped to be Australia's next rare earths mine. LNR has ground next door.
Carbonatites as well as ironstones are the host rocks where the nearby Dreadnought has confirmed discoveries. Carbonatites have the potential for larger tonnages. They are the host rocks for Lynas Rare Earths giant Mt Weld deposit in WA - one of the highest grade rare earths deposits in the world.
We look forward to LNR drill testing both rock types on its ground over the coming months.
LNR's drill program comes at a time when the Gascoyne region is seeing an influx of capital.
Hastings just raised $110M in equity, secured a $220M debt commitment from the Northern Australia Infrastructure Facility (NAIF) and had Australia's richest man (Andrew Forrest) throw $150M at it late last year.
A few weeks back we also saw $310M capped Dreadnought Resources raise $21.4M.
Our Investment LNR recently raised $2.5M - topping up its Dec 31st cash balance of $3.7M.
LNR is now capped at $24.6M, has ~$6.2M cash and currently trades with an enterprise value of ~$18.4M.
LNR is clearly the cheaper of the three, and appropriately valued given the company is still 'pre-discovery'.
So LNR is at a much earlier stage on its exploration journey, and while that means it's a riskier investment, it also means it has more leverage to a discovery.
Now with a bolstered cash balance, LNR is aiming to start drilling again in early April.
LNR will be conducting 10,000m of drilling focusing on two sets of targets:
(1) Shallow Ironstone targets - following up last year's program.
LNR will be doing step-out and infill drilling that follows up last year's drill program.
Here LNR has already identified over 1km strike of rare earths mineralisation less than 5km away from Hasting's deposit.
Ultimately LNR is chasing rare earths mineralisation here that mirrors Hasting's projects next door, and eventually look to put out a maiden resource estimate.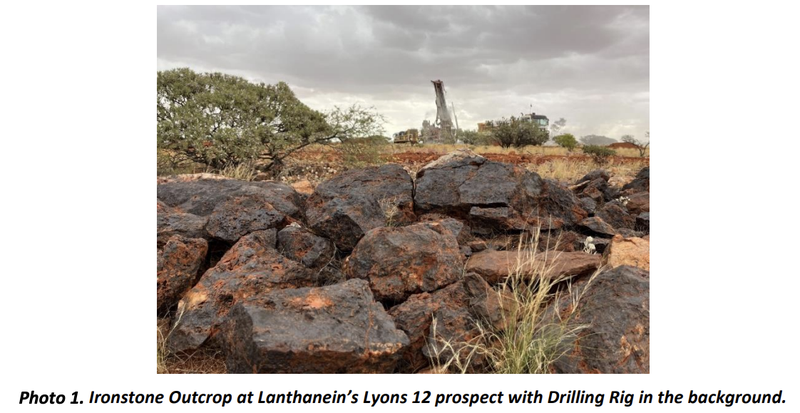 (2) Deeper carbonatite targets that have never been drilled.
LNR's carbonatite targets are giant geological structures, similar to $7.6BN capped Lynas Rare Earths Mount Weld producing mine.
Mount Weld is a giant carbonatite hosted rare earths resource in WA, and it's one of the highest grade rare earth deposits in the world.
LNR's carbonatite targets are a little more blue sky as they have never been drilled, however given the scale of carbonatite hosted rare earths resources, any sniff of a discovery would be fairly compelling here.
The WA government is also interested in seeing LNR's deeper carbonatite targets drilled - awarding LNR a $200k government grant to fund parts of the drill program.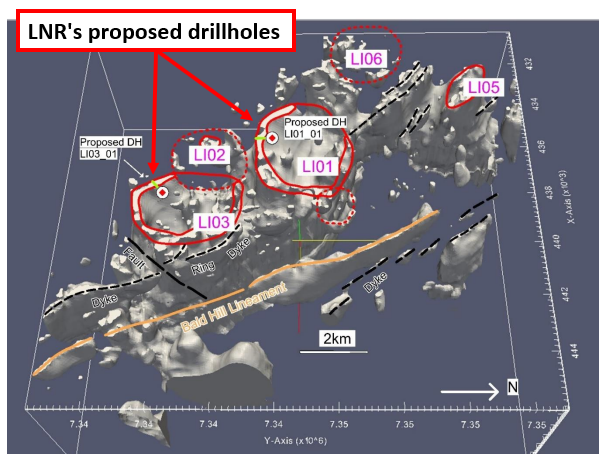 For context on carbonatites, below is an image of the vertical, cylindrical carbonatite structure that Lynas is currently producing rare earths from.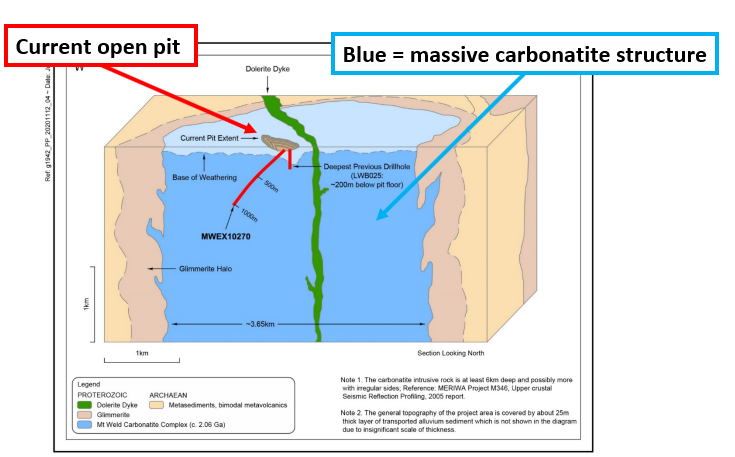 LNR - capital structure and funding
LNR recently raised $2.52M at 1.8c per share.
The newly issued shares from the capital raise came into the market on 10th February (last Friday).
So far, the share price is holding up fairly well - since last Friday, LNR's share price has settled to ~ 2.2c per share after getting as high as 2.8c per share (prior to today's news).
Given the capital raise was done at 1.8c per share, we could see LNR's share price drift somewhere closer to that placement price over the coming weeks, particularly if newflow slows as we wait for drilling to begin.
However, with the capital raise already done and out of the way, those looking for exposure to the drill program will have no option but to buy on market. As a result, this could lead to an increase in the company's share price all the way up to the drill program and subsequent results.
Ultimately we are hoping the company is able to successfully make a new discovery, delivering an outsized return for all shareholders.
This brings us to our "Big Bet" for LNR which is to see:
Our Big Bet
"LNR discovers and proves a rare earths deposit significant enough to become an acquisition target for one of its bigger neighbours Dreadnought or Hastings - or LNR becomes part of a consolidation play for all three companies"
NOTE: our "Big Bet" is what we HOPE the ultimate success scenario looks like for this particular Investment over the long term (3+ years). There is a lot of work to be done, many risks involved - just some of which we list in our LNR Investment Memo. Success will require a significant amount of luck. There is no guarantee that our Big Bet will ever come true.
Check out our LNR "Progress Tracker" where we track LNR's project from acquisition through to a hopeful discovery.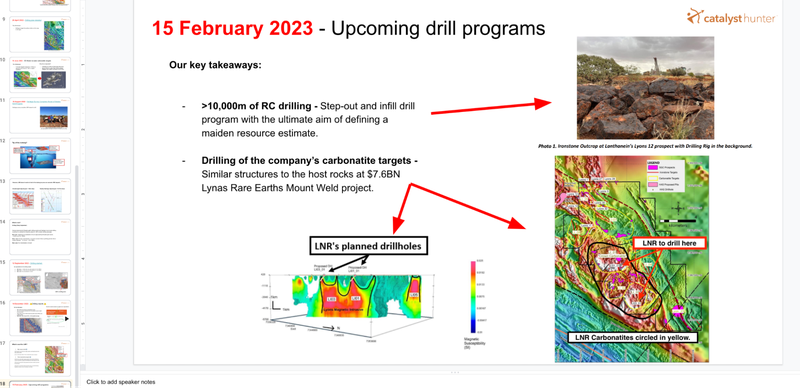 More on LNR's giant carbonatite targets:
In June 2022, LNR released an updated 3D model of its large carbonatite targets.
LNR managed to define a number of intrusive carbonatite occurrences with the potential for "larger tonnage style REE targets that extend to over 2km depth".
The 3D modelling presented the targets in the image below, the three biggest are as follows:
Intrusive target LI01 - 4.3km in diameter at surface, extending ~1km at depth.
Intrusive target LI03 - Circular ~2.8km diameter from a depth greater >2km.
Intrusive target LI05 - 2km x 1.3km structure with the source at ~2km depth.
LNR's proposed drill program will see the company drill holes going for intrusive target 1 & intrusive target 3.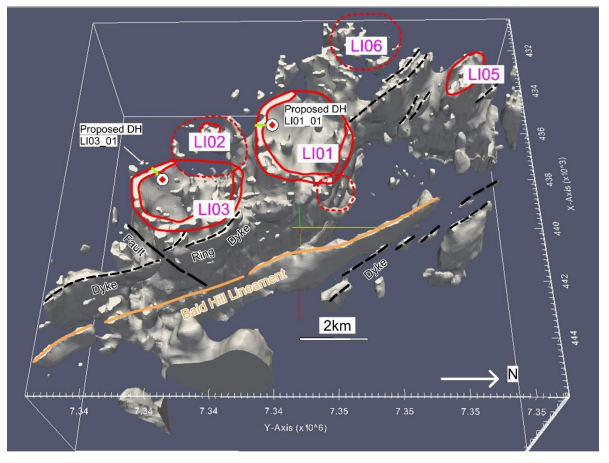 Below is another view of LNR's targets according to magnetic responses - the darker red sections are the carbonatite targets LNR plans to drill.
Again we can see the two drillholes LNR plans to drill right on the edge of intrusive targets 1 and 3.
If the results are positive, LNR could come back and drill significantly deeper to look for extensions to whatever is found.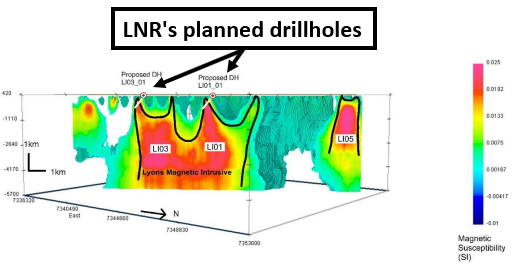 Why carbonatites could be a game changer for LNR
As we noted above, carbonatites are a type of host rock that have the potential to host larger tonnage rare earth elements mineralisation (as well as many other minerals).
Its early stage, and they've never been drilled, but at the moment, the carbonatite targets LNR has are similar to the ones that Lynas Rare Earths (capped at $7.6BN) is currently producing rare earths from - its Mount Weld project.
More relevant to LNR are the recent drill hits from its regional neighbour Dreadnought Resources.
Dreadnought identified a cluster of carbonatite targets measuring ~6.5kms in strike length x 1km width (see image below).
Dreadnought then drilled into its carbonatite targets and confirmed a discovery in late January this year.
LNR's ground sits immediately to the right of where Dreadnought hit mineralisation at its carbonatite targets.
We hope this is a sign the two projects come together as part of a regional carbonatite complex...
Below is a map showing where LNR's ground sits.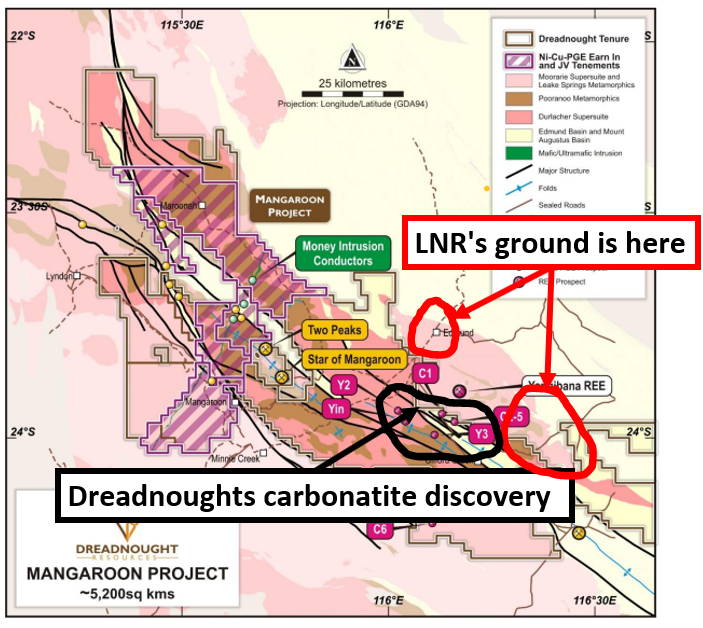 For some more context, below is an image putting the magnetic anomalies of Dreadnought side by side with LNR's carbonatite targets.
The key point is that the red/white signatures are where Dreadnought drilled and made a discovery.
LNR's carbonatite targets sit underneath similar red/white magnetic anomalies.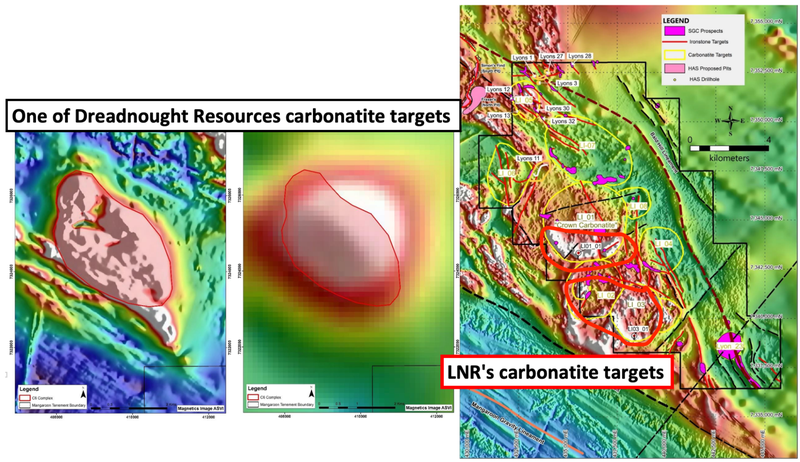 We are looking forward to LNR finally drilling both its ironstone and carbonatite targets in early April.
The obvious caveat going into the drill program is that no matter how good geophysics or geochemical anomalies look, we have been Investing for decades and have seen a lot of these style targets return no economic mineralisation.
There is always a risk that the carbonatite targets showing up in geophysics have no economic mineralisation OR worse yet, the anomalies may not be carbonatites.
As for the company's ironstone targets, there is always a risk that LNR are unable to extend any of the discoveries made with last year's drill program.
Overall we think the risk vs reward is what makes this type of drill program interesting with the potential to discover a project similar to Lynas Rare Earths project.
What's next for LNR?
10,000m drill program to commence 🔄
This is obviously the next major catalyst for the company amd where a large discovery could be made.
LNR will be running a fieldwork program including some rock chip sampling and heritage surveys leading up to a drill program in early April.
LNR will be running >10,000m of RC drilling across both its carbonatite & high grade ironstone targets. This programme includes two very specific diamond drillholes into the carbonatite targets that the company has already secured $200k in grant funding for.
With the two drill programs targeting different styles of rare earths mineralisation, we have set up our expectations differently for the two programs.
Shallow ironstone targets - here LNR is looking to build on the results from last year's drill program. The goal here is to drill infill and step out drillholes which will ultimately lead to the size of the project area increasing.
As a result our expectations remain similar to the ones we set last year:
Bull case = ~10-20m with rare earth grades of 2-3% (TREO)
Base case = ~5-10m with rare earth grades of 1-2% (TREO)
Bear case = No mineralisation is found
Deeper carbonatite targets - here LNR is drilling to test the outer rim of its giant carbonatite targets. As a result we will be focusing specifically on grades, and comparing to the grades Dreadnought Resources has been hitting across its carbonatite targets. Our theory is that if the grades are high enough, that will warrant LNR coming back and doing more drilling.
Bull case = >0.5% TREO ((Total rare earths oxide)
Base case = 0.2% - 0.5% TREO (Total rare earths oxide)
Bear case = <0.2% TREO (Total rare earths oxide)
Drilling at South Australian rare earths project 🔄
LNR is currently finishing off community consultations ahead of a maiden drill program at its Murraydium ionic clay hosted rare earths project.
While LNR's South Australian projects sit outside of our Investment Memo, we are watching to see how things develop at this project.
LNR also expects drilling to start here this quarter.
What are the risks?
For a small cap explorer going into a drilling program, the biggest risk to consider is "exploration risk".
This is early stage exploration, with a lot of unknowns. There is always a risk that drilling intersects nothing of significance and the company's drill targets that looked compelling pre-drill, are actually not worth pursuing any further.
This is early stage exploration investing, and success is no guarantee - or it may take multiple drilling campaigns to make a discovery - if at all.
We listed "exploration risk" in our LNR Investment Memo - to see all the other risks check out our Investment Memo here or by clicking on the image below: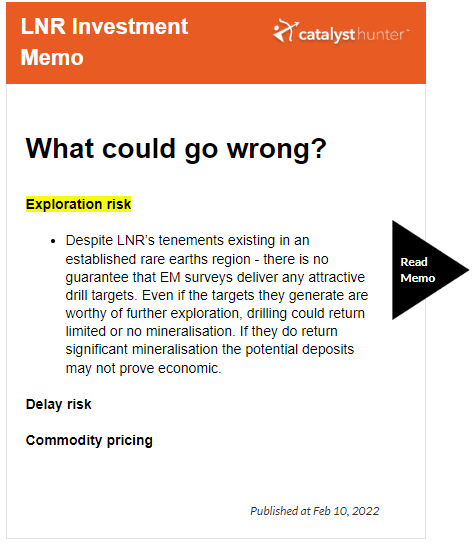 Our LNR Investment Memo
Below is our Investment Memo for LNR where you can find a short, high level summary of our reasons for investing.
In our LNR Investment Memo you'll find:
Key objectives for LNR
Why we continue to hold LNR
What the key risks to our investment thesis are
Our investment plan
---