LNR hit high grade Rare Earths - More drilling planned for 2023
Disclosure: The authors of this article and owners of Next Investors, S3 Consortium Pty Ltd, and associated entities, own 15,923,582 LNR shares and 3,500,000 LNR Options at the time of publication. S3 Consortium Pty Ltd has been engaged by LNR to share our commentary and opinion on the progress of our Investment in LNR over time.
Good start.
Enough to warrant further drilling.
And there's also a set of very large 2km deep carbonatite targets set to be tested in 2023, with a bit of help from the government.
This is significant because carbonatites are the same host structures for Lynas Rare Earths' Mount Weld project (Lynas is capped at $7.5BN).
More on that in a moment.
But for now, our focus is on this morning's assays from our rare earths Investment Lanthanein Resources (ASX:LNR) which returned results from its maiden drilling campaign in the Gascoyne region, WA.
In this drilling campaign, LNR was primarily pursuing Neodymium (Nd) and Praseodymium (Pr) - and in particular hits with a high ratio of these rare earths.
These are the two rare earths that go into wind turbines and electric vehicles' permanent magnets - key pillars of the energy transition.
The hits are shallow (from as little as 6m below the surface) and perhaps more importantly - the results are very similar to what LNR's neighbour (Hastings) has been returning in recent drilling.
After today's assays, LNR has put together an initial 1km of strike length of 'economic [rare earths] mineralisation', which remains open.
We think this means the results could be considered good enough to potentially be part of the ore used by adjacent and larger neighbours - which includes rare earths developer Hastings Technology Metals (capped at $480M) and advanced explorer, Dreadnought Resources (capped at $280M).
So we think there's value here already.
LNR's results also have a decent grade of Total Rare Earth Oxide and even better an NdPr ratio that is 3x the global average.
Hastings' Yangibana DFS outlines a resource with an NdPr of up 52% and Dreadnought's Yin deposit has an NdPr ratio of ~46%.
Which, given that 90% of Hastings' future revenue will come from this NdPr - we think means a peak ratio from LNR's drilling of 55% is significant.
In addition to solid NdPr ratios:
LNR returned a peak hit of 5m at 0.69% total rare earths oxide (TREO) from a depth of 20m.
Included inside this intercept was a higher grade section of 2m at 1.06% TREO.
Completely unexpected to us, we also saw LNR's drill results include niobium mineralistion with grades as high as 1.2%.
Niobium is a metal we're becoming increasingly interested in as with it being listed as a critical mineral by the US, European Union, India, Japan and Australia.
We have a further breakdown of the assays below and as a result of this hit, today's assays satisfied our base case for this round of drilling: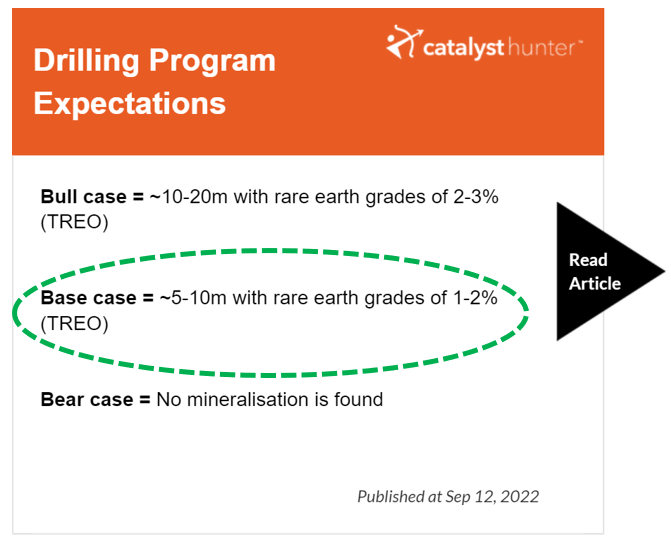 With a peak hit of 5m and separately, grades reaching as high as 1.67% TREO (with a good NdPr ratio of 55%), we're largely content with today's results.
LNR is now planning both a step out and infill drilling program with the ultimate aim of putting out a maiden resource estimate in H2-2023.
As mentioned, when we first set up our drilling results expectations, we were not expecting LNR to make a giant discovery off the back of its very first drilling program.
More to that, our #3 Key Objective was for LNR to "Deliver enough successful Rare Earths drilling results to warrant further drilling campaigns" - which we now see as achieved.
So with rare earths mineralisation found and 1km of strike identified, we think LNR has made strong progress with its first ever drilling program over its project.
This brings us to our "Big Bet" for LNR which is to see:
Our Big Bet
"LNR discovers and proves a rare earths deposit significant enough to become an acquisition target for one of its bigger neighbours Dreadnought or Hastings - or LNR becomes part of a consolidation play for all three companies"
NOTE: The above is what we think the ultimate success scenario looks like for this particular Investment over the long term (3+ years). There is a lot of work to be done by the company to get to this outcome and obvious risks which need to be considered, some of which we list in our LNR Investment Memo.
Check out our LNR "Progress Tracker" where we track LNR's project from acquisition through to a hopeful discovery.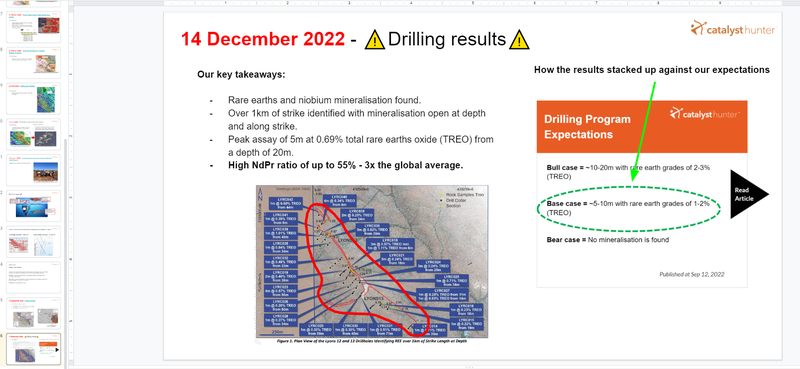 More on today's drill results
LNR has now identified over 1km of strike which appears to run almost directly into Hastings' tenement.
Importantly the mineralisation is open along strike and at depth meaning there is exploration potential that LNR can test with future drill programs.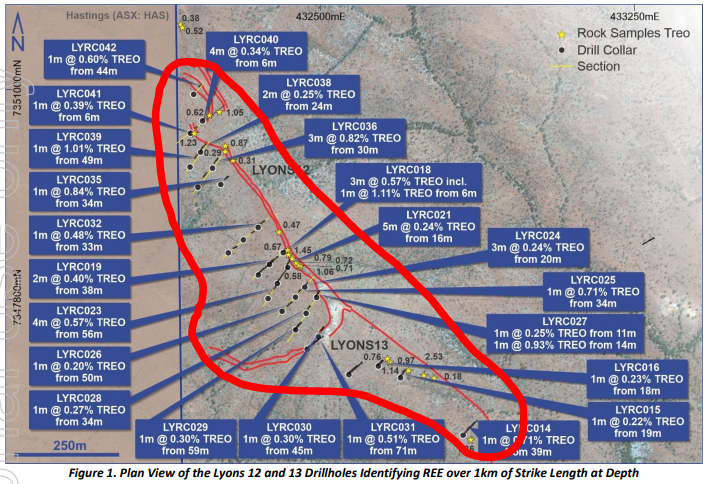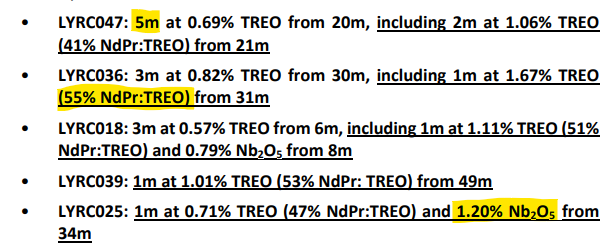 All this leads us to cast one eye on what LNR's closest neighbour in the emerging rare earths Gascoyne region is up to...
$480M capped Hastings has an updated DFS which lays out an initial 15 year mine life: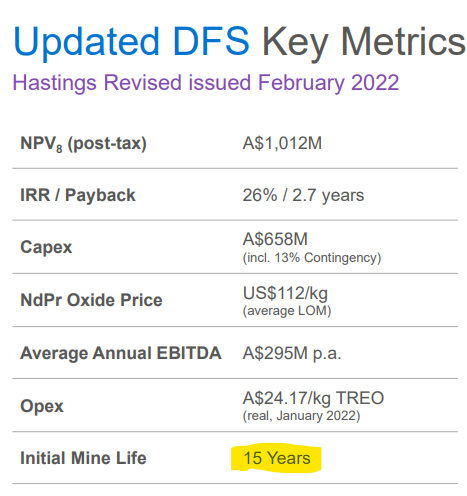 To extend this mine life, Hastings has been drilling its Bald Hill prospect to the north of its main project.
HAS' most recent drilling results from Bald Hill are returning roughly similar hits to the ones LNR generated in this first drill pass - this prospect is ~2.5km away from LNR's project.
As a result, and this is highly speculative, we think there may be some potential for HAS to extend its mine life at some point down the track by picking up LNR's adjacent tenement.
These are some of HAS' latest results from Bald Hill: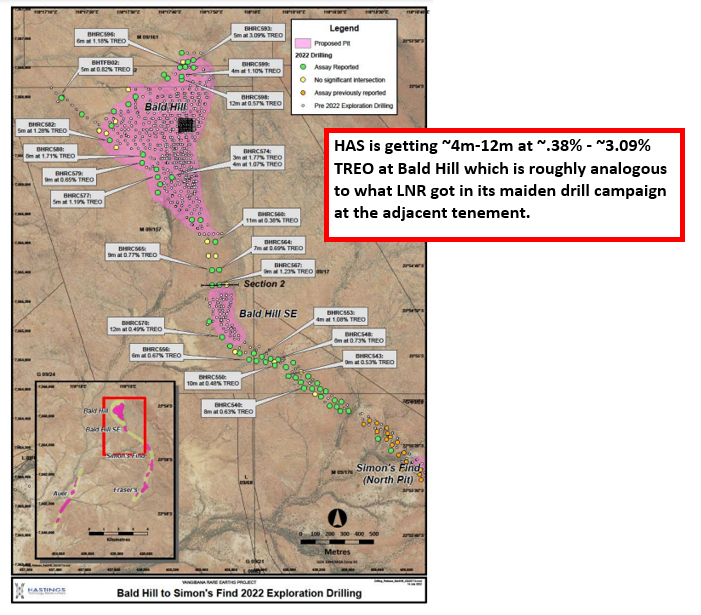 As before, the results also include a hint of niobium mineralisation, a metal we're increasingly interested in as it shows up on government lists of critical raw materials:
One hole came in with: 1m at 0.71% TREO (47% NdPr:TREO) and 1.20% Nb2O5 from 34m.
90% of niobium is used in the steel industry as a micro alloy to improve the strength and durability of steel.
It also has a range of high-tech applications, most notably in magnetic resonance imaging (MRI) machines and particle accelerators.
A niobium discovery re-rated WA1 Resources from a share price of ~13c (pre discovery) to trade in the last three weeks at $2.28 per share - a return of ~1,800%:
So we see niobium as a potential source of further upside at LNR's Gascoyne rare earths project as it pursues follow up drilling in the new year.
What's next for LNR?
More assays 🔄
After today's announcement LNR has released ~70% of the assay results from its maiden drilling program.
LNR expects the remaining assay results to be released throughout December and into early January 2023.
Big carbonatite structures to test 🔄
LNR received $200k from the WA government to drill test the outer magnetic rim of the carbonatite structures which LNR has modelled previously - the plan is to drill these targets next year. These are big carbonatite targets that are 2-4km in diameter and go up to 2km deep.
LNR has previously flagged that these are Mt Weld-esque targets which is the deposit which helped turn Lynas Rare Earths into a ~$7.5BN capped company.
It's a swing for the fences type drill target - but one we like the sound of.
Below is an image of LNR's carbonatite targets: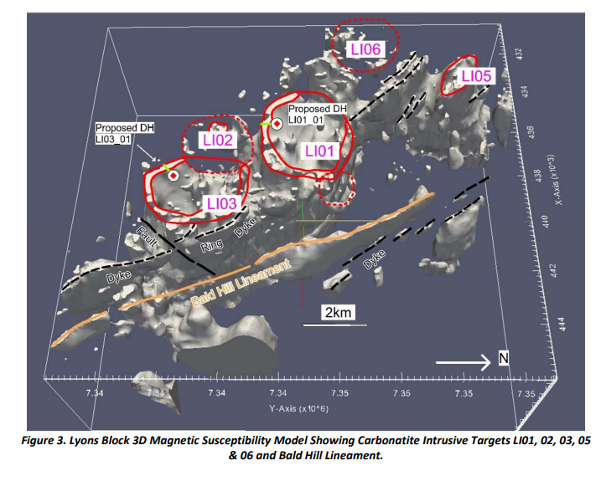 Work on other projects 🔄
LNR has a kaolin project in WA that recently released promising early visual results.
The company also has a South Australia project which is prospective for ionic clay hosted REE's next to Australian Rare Earths (capped at $51M) and its Mt Clere rare earths and lithium project which has pegmatites in the south east of the tenement.
We'll be looking for LNR to have a crack at drilling at least one of these last two projects in the new year, which could add upside.
Our LNR Investment Memo
Below is our Investment Memo for LNR where you can find a short, high level summary of our reasons for investing.
The ultimate purpose of the Investment Memo is to track the progress of LNR using the objectives set in the memo as our benchmark.
In our LNR Investment Memo you'll find:
Key objectives for LNR
Why we continue to hold LNR
What the key risks to our investment thesis are
Our investment plan

---