GTR to Drill WA Gold Project – Its Larger Neighbour Soared 250% on Success
ASX exploration junior, GTI Resources (ASX:GTR) is best known for its flagship uranium assets located in the Henry Mountains region in Utah, USA, a hot spot for high grade uranium deposits.
GTR is a first mover in the Utah uranium space on the ASX, but what many don't know is that GTR also has a Western Australian gold project that is starting to look increasingly interesting to investors.
The increased attention on GTR's 100% owned Niagara Project near Kookynie in the Eastern Goldfields has been driven by two main motives.
The first is the gold price soaring to a new 9-year high of US$1800/oz. last week, and with that comes an extremely bullish environment for WA gold explorers, and the second is that GTR's neighbour Metalicity Ltd (ASX: MCT) recently had a highly successful drilling campaign that swiftly brought to light the potential of the Kookynie region to deliver compelling gold projects.
MCT, in a JV with Nex Metals Exploration Ltd (ASX: NME), hinted at the potential of GTR's WA ground, gaining almost 250% after hitting "spectacular" high grade results from first assays at Kookynie.
MCT's successful gold drilling was completed just 2-4km north of GTR's project.
MCT has since consolidated and is currently capped at $35M. MCT has a 50% interest in its Kookynie project – which gives a read through value of approx. $70M for 100% of its Kookynie Gold Project.
GTR is currently capped at less than $14M, and it is armed with both high potential uranium assets, and a 100% owned Kookynie WA gold project.
Upcoming drilling by GTR could identify high grade gold, which could see its value rocket on success.
It appears the market has not fully priced in GTR's WA gold project, but it is unlikely to remain that way for long.
After a recent capital raising bringing in over $1.8M, and with a fully underwritten SPP set to raise $978,000, the company is arming itself with significant funding to build work programmes across both the WA gold project and the uranium project in Utah.
Now, in the interim period whilst exploration planning and permitting is finalised in Utah, GTR is full steam ahead on further gold exploration at its Niagara gold project in Kookynie.
An aeromagnetic survey has just been completed by the company, and we expect to see a steady stream of newsflow over the coming weeks – including ground truthing, sampling and drill targeting, which will culminate in an RC drill programme during September 2020. The company already has up to 5000m of drilling approved.
Niagara Project – can it deliver an MCT style result for GTR?
The Niagara gold project is located ~6km southwest of Kookynie in the central goldfields of WA.
The project covers 10.2km2 and comprises one granted exploration licence (E40/342) and four prospecting licence applications (P40/1506, P40/1515, P40/1516 and P40/1517) which were recently pegged and applied for.
GTR acquired past producing mineral leases adjacent to the Niagara project earlier this year, ahead of its current exploration activities, more than doubling the size of its WA land holding.
GTR's Niagara gold project is located within the central part of the Norseman-Wiluna greenstone belt and the geology of the area is characterised by large rafts of semi-continuous greenstone stratigraphy within the Mendleyarri monzogranite batholith.
Numerous historical workings occur within and to the north of the project area, with a number of major historical mines located in the immediate vicinity of Kookynie, including the Cosmopolitan Mine which produced circa 360,000 ounces of gold at average grade of 15 g/t gold from 1895 to 1922.
The Niagara project is located in close proximity and along strike from Nex Metals Exploration's (ASX:NME) tenements that are being successfully explored by Metalicity Ltd (ASX:MCT) who is earning into the project under a JV agreement.
The following map outlines the MCT licences and how close they are to GTR's ground: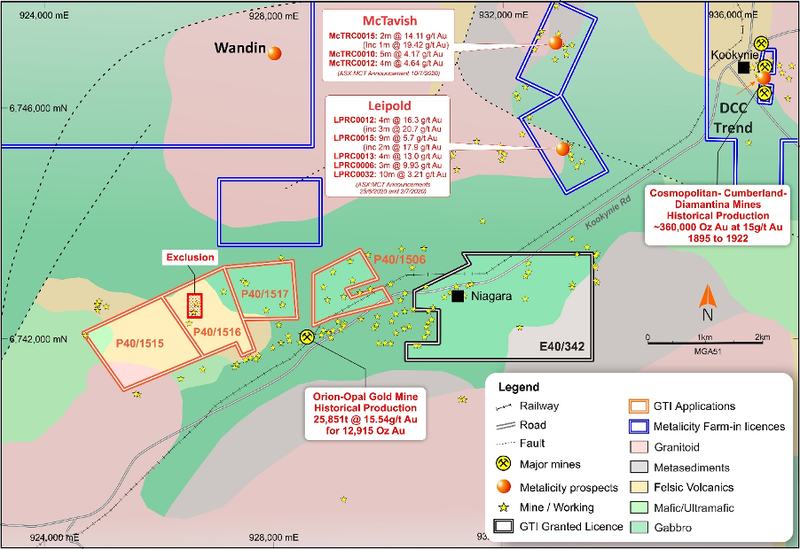 Niagara Project – Licences and Mineral Occurrences, Metalicity Prospects on 1:500,000 Geology
Recent highly successful exploration drilling conducted at the Leipold and McTavish prospects at the JV's Kookynie Gold Project — located just two to four kilometres north of GTR's Niagara Project — demonstrates the potential of the region to be a prolific area.
As we mentioned above, the recent successful exploration drilling at the Kookynie Gold Project resulted in significant share price growth for MCT. The stock gained almost 250% after announcing the "spectacular high grade results from first assays at Kookynie".
MCT is currently as a $35 million market capitalisation – more than double that of GTR.
Encouraged by MCT's success and the prospectivity of its ground, plus the overall strength in the gold sector, GTR has made the strategic decision to allocate funds to drilling here.
GTR Executive Director, Bruce Lane said:
"Metalicity's spectacular success, in close proximity to our Niagara (Kookynie) Project, encouraged GTI to accelerate our next phase of gold exploration and drill targeting at Niagara. Timing of the program fits perfectly from an execution planning point of view, with the exploration preparation work being undertaken at GTI's Utah projects.
"The Company hopes to identify structures similar to those being successfully drilled immediately to the north. The Company's uranium and vanadium projects in Utah (US) remain the Company's key focus, however we strongly believe that there is an interim opportunity to drive shareholder value through exploring the Niagara Project at Kookynie.
"GTI has held the lease at Niagara in anticipation of the optimum conditions occurring before investing in further work on the project ‐ we believe that the time is now right to accelerate exploration."
Gold Exploration underway
Drill targeting is now underway in preparation of a drilling event that could prove to be a major catalyst for the diversified, $13.6 million capped GTI Resources.
Further field work at Niagara will follow up on soil sampling that identified several significant gold in soil anomalies in May 2020.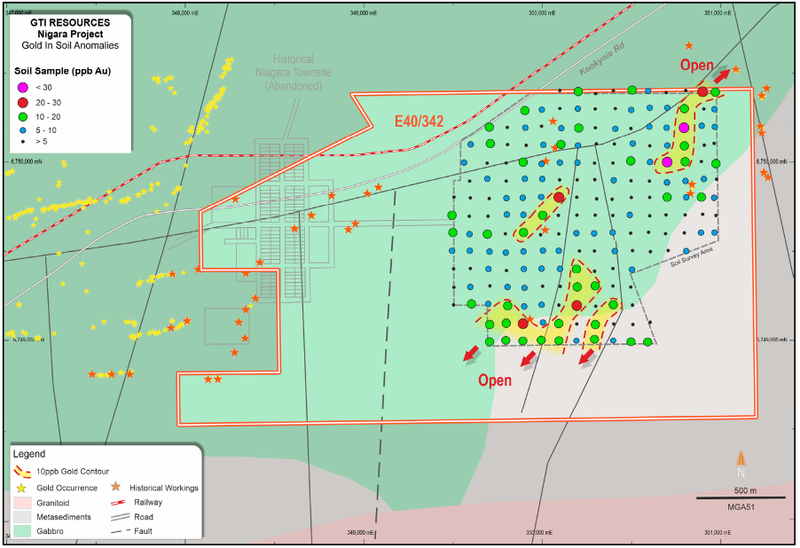 Niagara Project – Auger Soil, Gold Anomalies on 1:500,000 Geology
As announced this morning, the flying of an airborne magnetic survey has been completed at the project.
The detailed aeromagnetic survey of ~2,200 line kms covering 30km2, is the next phase of gold exploration work to follow up on anomalous soil sampling results.
The detailed fixed wing airborne survey was targeted to define and map potential north trending structures within the buried magnetic basement, which may be associated with gold mineralisation in the Kookynie region.
Final magnetic imaging is expected to be available with the next two weeks.
This imaging will be utilised to refine a follow up field program which is likely to include additional infill auger sampling and ground mapping to aid in drill targeting. Permitting is already in place for up to 5,000 meters of RC drilling.
GTR recently completed a $1.8m placement at $0.03cps, which was supported by major shareholder and influential mining investor Tolga Kumova.
The company is now undertaking a fully underwritten Share Purchase Plan (SPP) to raise up to a further $978,000 also at $0.03.
Given the significant works programs at both its USA and WA projects and the anticipated shareholder value drivers over the coming months, the company expects the injected capital will be sufficient to achieve its ambitious work programs for the rest of 2020.
Catalyst ahead: WA Gold drilling
It appears that while GTR has been attracting attention for its Utah uranium-vanadium assets, the market doesn't appear to have priced its WA gold project into the current market valuation.
Yet any drilling success in WA could prove to reward GTR shareholders considerably.
Further field exploration will include ground truthing, sampling and drill targeting.
A program of work (PoW) has been approved for up to 5000 meters of RC drilling and GTR expects to drill an initial program during September 2020.
The recent highly successful exploration drilling conducted at the Leipold and McTavish prospects that are located just 2-4kms north of the Niagara Project, by Metalicity in JV with Nex Metals Exploration demonstrates the potential of the Kookynie region within the central Norseman‐Wiluna greenstone belt.
Interestingly, MCT now have a market capitalisation of $36 million with significant increases in value being driven principally by the spectacular drilling results achieved in June-July.
With the SPP underway and $1.8m placement completed, GTR is armed with significant firepower to try and emulate MCT's drilling success in WA.
---