$11M Capped NES is Hunting the Next Tropicana - Drilling to Start in Days
Micro cap WA gold explorer Nelson Resources (ASX:NES) is primed for a major drilling event.
In the coming weeks, drilling and the associated results has strong potential to re-rate this tightly held stock, especially given the current strong gold price hovering around $1,900/oz.
NES's current market cap is just $11M... in the current market, this is almost a 'shell' like valuation.
Which means significant leverage to an imminent gold discovery.
The company recently raised $2M and is funding for imminent drilling on a 100% owned project, which has genuine potential to host a Tropicana style gold deposit.
Tropicana is a monster 7.7 million ounce gold deposit in WA.
NES's Woodline Project covers 828 km2, and sits in the highly prolific Tropicana gold belt.
There is circa 20km of a prospective Tropicana style gold target for NES to drill here.
The northern portion of the project sits in Archean greenstone – this is the same type of rock that the 10 million oz. St Ives and 3 million ounce Gruyere deposits were found in.
NES intends to drill over 6,000m of RC in the coming weeks – a sniff of any substantial gold hits could see the company's share price move extremely rapidly.
Beyond that, it's planning to drill a whopping 20,000m by year-end – and it can, because it owns its own drill rigs, and is in complete control of its work programme.
In this rest of this article we will explain why NES has high potential for an imminent share price move.
A compelling case
The 828 km2 Woodline Project, is Nelson's flagship project and forms the bulk of the company's overall 956km2 tenure holding.
Woodline sits in a gold exploration hot spot, with significant exploration close to NES's tenure by IGO, Galileo, Legend, FMG, Silverlake, and others.
NES recently raised $2M at 7.5c, in a heavily oversubscribed placement to shore up its balance sheet, noting that it was already funded for another six months of exploration.
Having recently spoken to management, we understand that it is possible NES could go 18 months or more without needing to raise further money. This is a good sign as it means the company intends to minimise dilution.
This is in part due to the fact that Nelson now owns two drill rigs (an RC and Diamond drill rig) and therefore now has effectively no cash outlay to drill. It doesn't have to pay a contractor and it can mobilise drilling whenever it wants.
The company has cut out the long wait times and mitigated the high-demand and lack of supply for drill rigs currently occurring in WA, an excellent point of difference to most junior explorers.
One RC drill rig is being mobilised to Woodline this week and is capable of drilling more than 250m deep RC holes. RC drilling will complement the current diamond drilling and test a newly identified potential strike.
This will be a 68 hole, 6068m RC drilling program designed to infill the current diamond drilling programs at the Grindall, Redmill and Socrates prospects at Woodline.
The company believes the Woodline Project is potentially a Tropicana lookalike.
The 7.7 million ounce Tropicana Gold Mine is operated by AngloGold Ashanti and is one of the most important gold discoveries in Australia for decades.
Tropicana currently produces approximately 450,000 ounces per annum. In today's gold price terms, that equates to over A$1 billion dollars per annum.
Obviously it is early days for NES here, and there is no guarantee the company will uncover a massive gold resource, however historical work is highly positive and points to a potential Tropicana-style discovery.
The tiny market cap is also in investors favour as even a reasonable drill hit could see the shares return multiples of the current price.
It should be pointed out that $14 million in historical exploration has already been carried out by NES, Sipa Resources, Newmont and MRG.
Nelson has mapped out a large work program throughout 2021 with a view to getting a better understanding of what it is sitting on:
Commencement of an RC drilling program at the Grindall, Redmill and Socrates prospects followed by planning of an enlarged RC drilling program.
Induced Polarisation (IP) and electromagnetic geophysical surveys to map the disseminated sulphides at West Socrates to assist with definition of additional drill targets.
Follow-up surface geochemistry, geophysics and drilling at the Morris nickel prospect.
Nelson is also conducting on-going exploration at its Tempest gold and nickel project, located 100km east of Woodline. Tempest is 250 kilometres east-southeast of Kalgoorlie and 90 kilometres northeast from IGO's Nova-Bollinger Mine.
However, it is the drilling that is just days away at Woodline that is the first of what could be several major catalysts for the year.
Could Woodline be a Tropicana lookalike?
The Woodline Project lies on the boundary of the Proterozoic Albany Fraser Oregon and the Archean Yilgarn-Craton in Western Australia and as mentioned above includes the Socrates, Grindall, Redmill and Harvey prospects.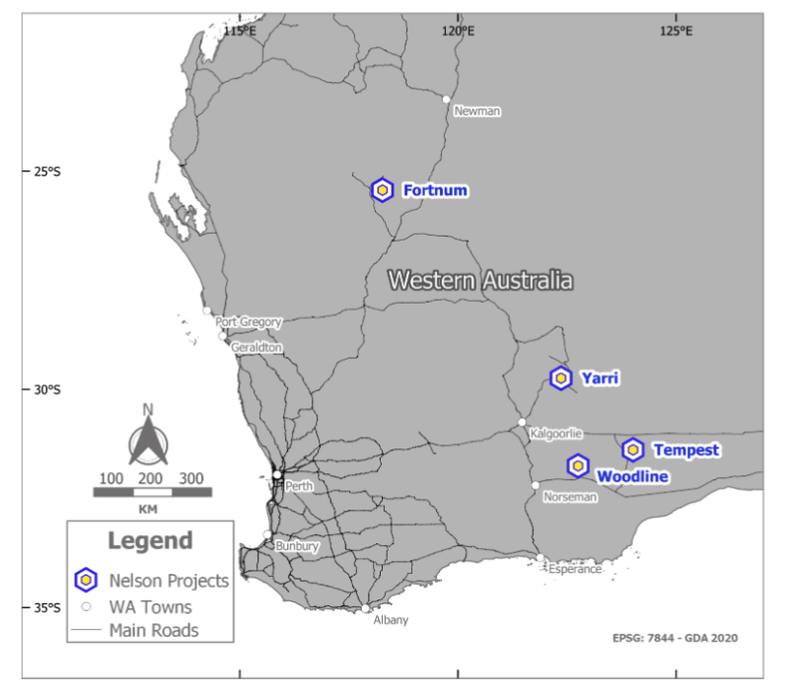 The Woodline Project sits in the highly prolific Tropicana gold belt.
The Project contains 45km of the Cundeelee Shear Zone, which consists of a known +20km Gold Geochemical and bedrock anomaly, hosted in the same geological structural setting as the 7.7 million ounce Tropicana Gold mine.
Of that 20km, Nelson has only just scratched the surface focusing on about 6km thus far.
Importantly, there is 30km of significantly unexplored greenstones along the Norseman-Wiluna greenstone belt.
Also working in the company's favour, is a significant and unique holding within the confluence of the Keith-Kilkenny Fault / the Claypan Shear Zone and the Cundeelee Shear Zone, all of which have hosted many of the largest gold projects in Western Australia including Tropicana.
Nelson will conduct large programs throughout the year with Executive Director Adam Schofield saying, "We are very excited about the planned RC program as it allows us to begin in earnest to test the large-scale potential of our gold targets. We now have the ability to undertake our drill programs as required and to optimise the drilling by choosing the style of drilling we conduct. As such we anticipate delivering significant news and value to our shareholders in the coming year."
The catalyst – gold drilling in coming days
Nelson Resources will undertake a 68 hole 6068m RC drilling program at Grindall, Redmill and Socrates.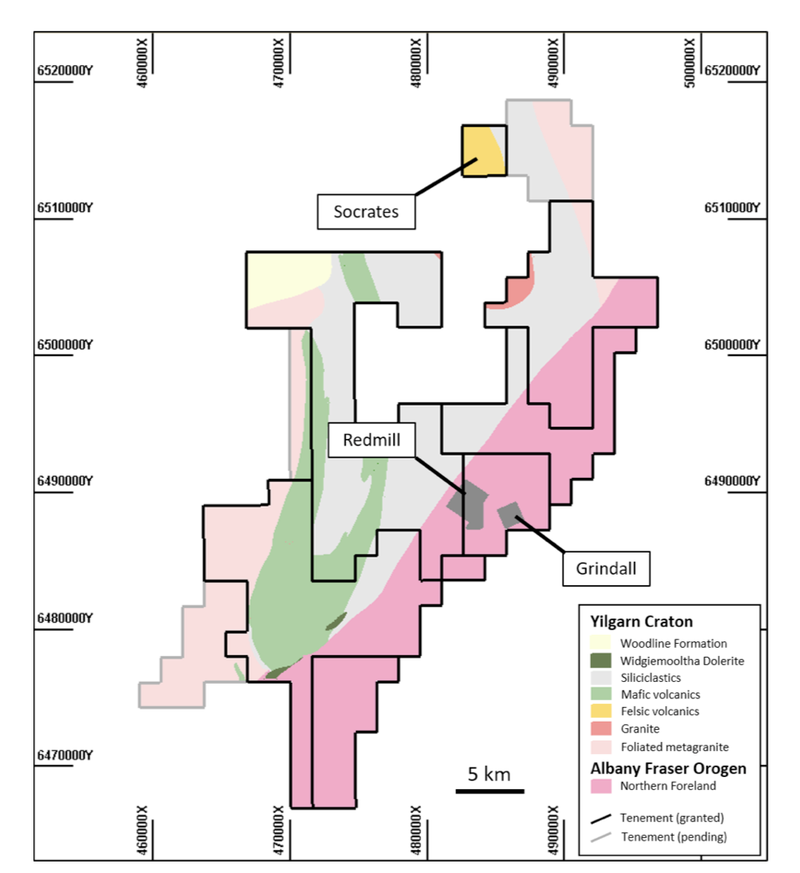 Geology of the Woodline Project showing the locations of Redmill, Grindall and the Socrates It Prospects.
It will begin with 24 RC drill holes for 1278 m planned at Socrates that will test the northern and southern extensions to the existing mineralisation as identified by the Loupe EM survey.
This mineralisation remains open along strike and at depth and has not been tested by the existing drilling.
Previous drilling at Socrates includes 4458m of RC by Nelson and 3046m of RC done by Sipa / Newmont.
The notable intercepts include: 1m @ 142 g/t Au, 8m @ 3.53 g/t Au, 25m @ 2.06 g/t Au and 192m @ 0.5 g/t Au.
Further results can be seen below.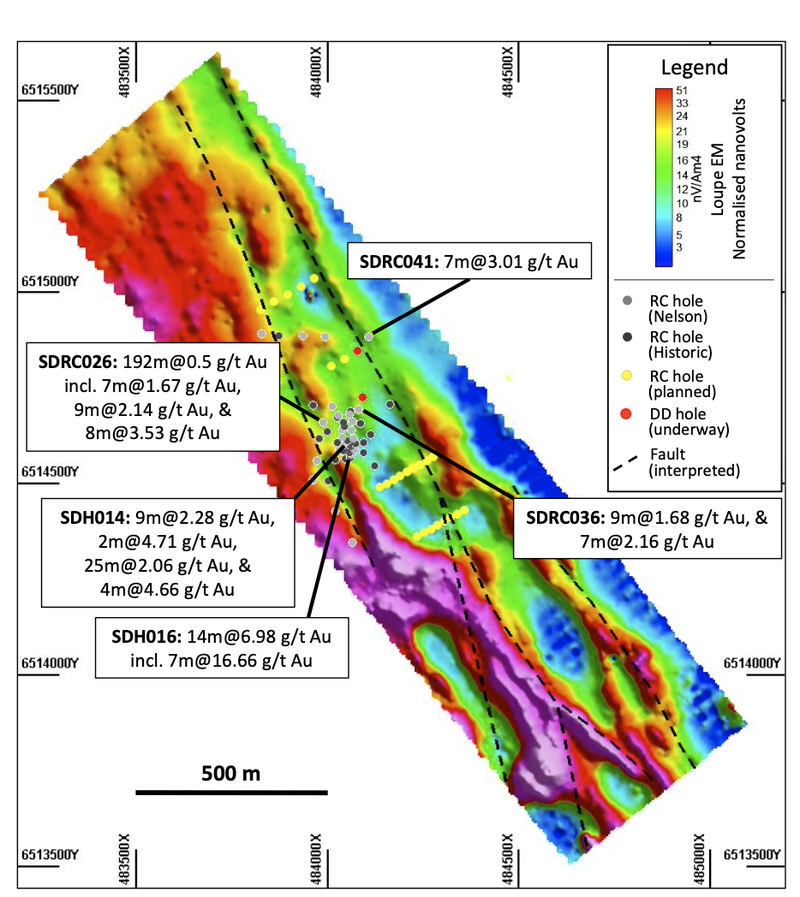 Socrates mineralisation remains open along strike and at depth and has not been tested by the existing drilling.
Previous drilling identified a strike length of approximately 370m with the Loupe data showing 2km of potential mineralisation.
Drilling at Socrates will be followed by a planned 14 RC drill holes for 1020m at West Socrates, a target identified from previous drilling by Nelson. The company has also conducted mapping and rock chip sampling.
Drilling is planned to further test strike and dip, with previous drilling results published by NES including 7m @ 5.02 g/t Au (SDH019), 1m @ 1.12 g/t Au (SDH022) and 1m @ 1.04 g/t Au (SDH018).
Moving to 4 RC drill holes for 480m are planned for East Socrates.
East Socrates is a newly identified structure further identified by the recent Geophysics undertaken by Nelson.
At Grindall, Nelson has planned 19 RC drill holes for 2530m.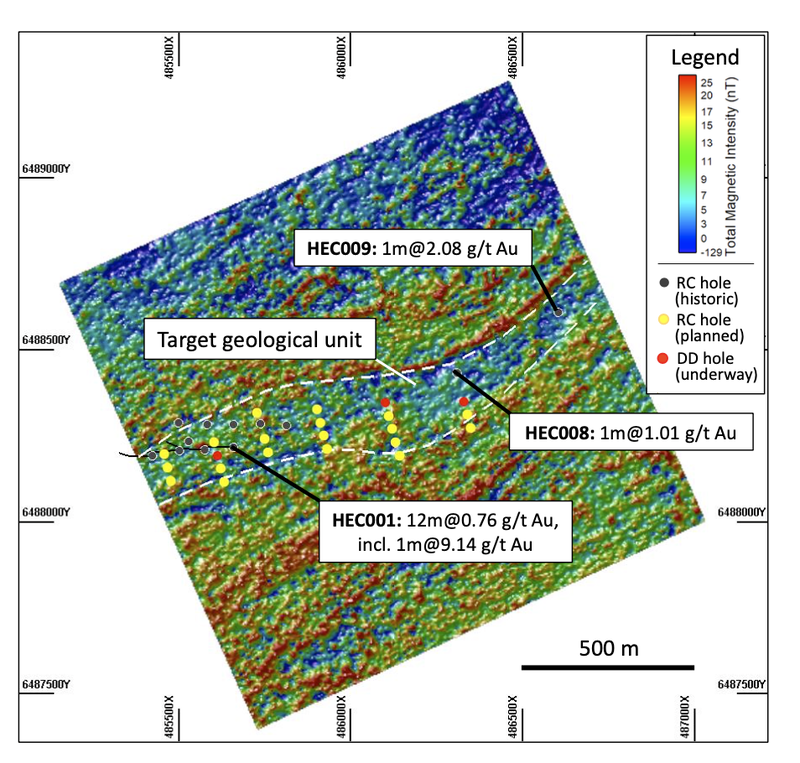 The Grindall and Remill Geochemical and Geophysical structure extends over 20kms.
The Grindall and Remill Geochemical and Geophysical structure extends over 20kms and the RC drilling has been planned to test a structural target identified from a recent Loupe EM survey completed by the company as well as from historic RC drilling by Sipa.
Previous limited drilling by Sipa returned 12m @ 0.76 g/t Au -including 1m @ 9.14 g/t Au (HEC001), 1m @ 2.08 g/t Au (HEC009) and 1m @ 1.01 g/t Au (HEC008).
The company will complete the current RC Drilling program with 7RC drill holes for 760m planned at Redmill.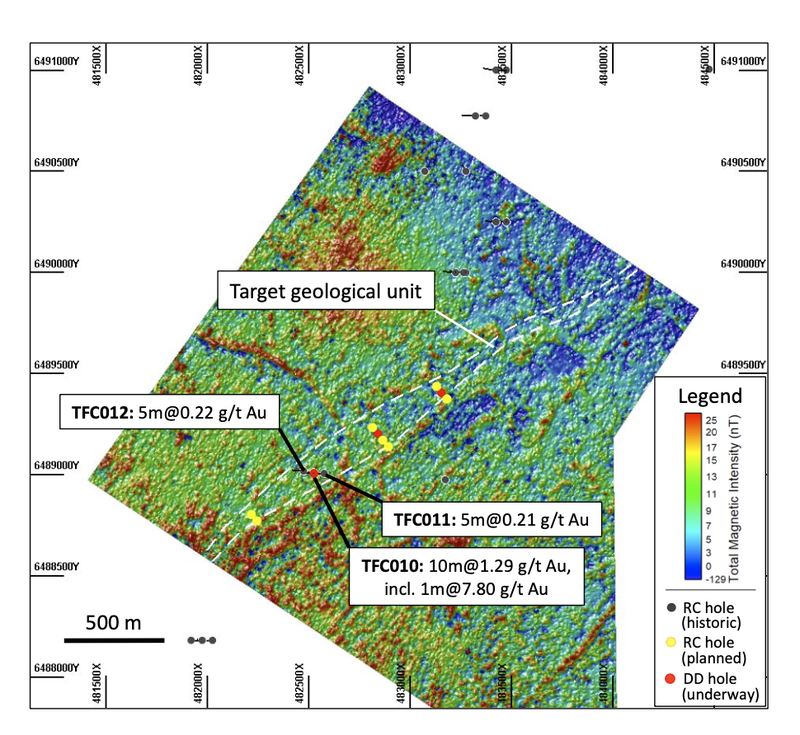 7RC drill holes for 760m are planned at Redmill.
As with Grindall, drilling will test a structural target identified from a recent Loupe EM survey completed by Nelson and historic RC drilling by Sipa.
Sipa's Results include 10m @ 1.29g/t Au -including 1m @ 7.8g/t Au (TFC010), 5m @ 0.22g/t Au (TFC012) and 5m @ 0.21g/t Au (TFC011).
Significant results lay strong foundations
Looking at the results above, Nelson has some strong foundations on which to build.
It intends to drill 6000m in the next month and a whopping 20,000m by year end.
All drilling will be able to be conducted at the company's will as it owns both an RC and diamond rig. That means no delays and no costs other than assay results.
Given previous drilling, Nelson understands the geology well and it's not impossible to imagine a multi-million ounce resource one day.
Thus, the coming drilling event is an important one for Nelson and not only has the potential to build on past work, but also to take it one step further in determining how close to a Tropicana scale, the Woodline Project actually is.
---