ARN Days Away From Nickel Drilling
Aldoro Resources (ASX:ARN) is now just days away from diamond drilling at its flagship Ni-Cu-PGE project.
ARN is targeting two drill holes to kick off its drilling campaign.
We invested in ARN in March this year for the long term for a large nickel discovery and made the company one of our biggest holdings.
We increased our position when internationally renowned geologist Dr Minlu Fu invested $2M into ARN, making his entity one of ARN's largest shareholders.
Dr Fu's previous successes and enviable track record involve a number of nickel, copper and gold discoveries and it is the potential to make a large nickel discovery that attracted him to make a strategic investment in ARN.
We also like ARN's low number of shares on issue and battery metal thematic.
In fact, after its lithium acquisition last month, ARN has almost all the materials needed to make an electric vehicle battery, all in one location, all in Western Australia.
However, this week is all about nickel for ARN.
ARN is about to start 5,000m of nickel drilling on a number of high confidence targets - holes have been pegged and drill pads prepared.
The drill rig is now mobilising after a slight delay in getting the rig to site and drilling will start in the coming days.
The catalyst: Drilling in days
ARN will start drilling at the Narndee Igneous Complex in the coming days, with the drilling operator now mobilising to site.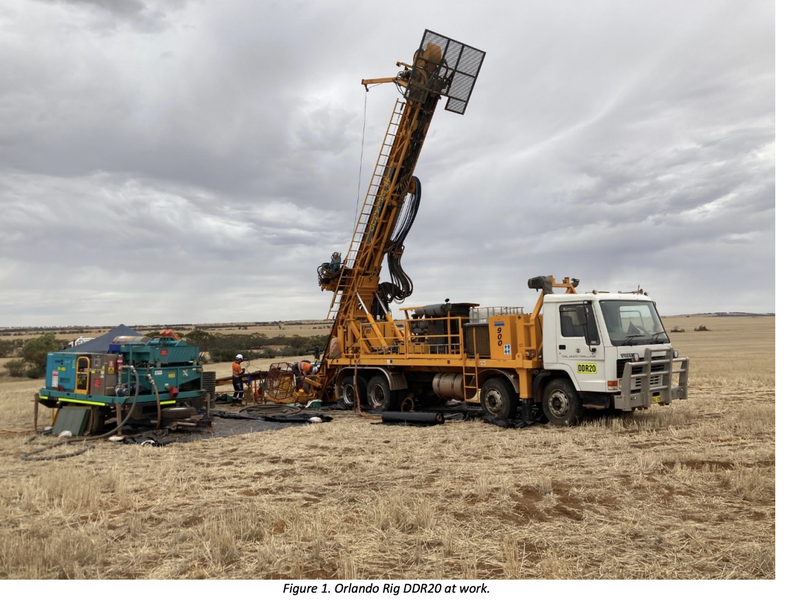 Two targets VC1 and VC11 will be drilled first, with ARN planning 550m of drilling and up to 800m if results go its way.
A MLTEM survey designed to refine the highest priority exploration targets is now completed. Results of this survey will also be reported in the coming days.
Drilling isn't the only catalyst that's days away
Field reconnaissance by ARN in July identified two nickel-copper gossans requiring follow-up at the Narndee project.
Below, you can see the location of the drill holes and gossans: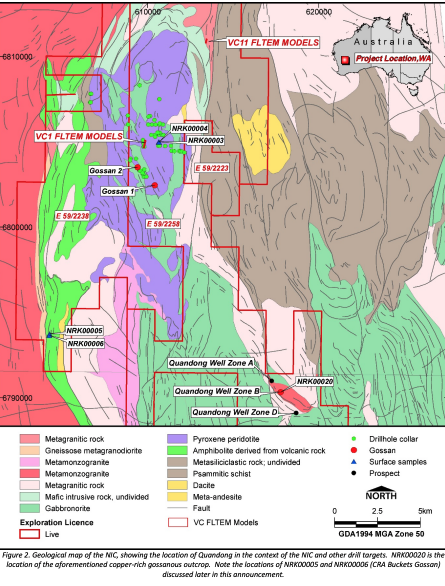 We expect to see results of the field reconnaissance and sampling work at Narndee soon. It has already confirmed a copper-rich gossanous outcrop at Quandong Well Zone B (see above).
The historical copper and nickel-copper gossans had been confirmed and sampled at Quandong Well Zone B and CRA Buckets Gossan, respectively.
Gossans are found at the surface of the rock and are essentially the signposts that point to what lies beneath.
We'll know more about the rock chip samples and what is contained in them when assays from the drilling come in.
It's interesting to note here that the Quandong Well area was explored by Dampier Mining Co ltd in the early 1970s and several copper gossans were discovered.
Thirty-one holes for 1731m were drilled, with significant copper, zinc, and gold results reported in oxide phases close to the surface, grading into a sulphide assemblage of pyrrhotite and chalcopyrite at depth.
This represents a significant exploration opportunity for ARN, given the modern electromagnetic technology available now compared to the 1970s.
ARN interprets copper and gold-rich Volcanogenic Massive Sulphide (VMS) style targets in this area. The datasets for Quandong will be compiled, QAQC checked, validated, and interpreted. Once this is completed, significant historical results will be reported, and follow-up programs planned.
In other words, there's a lot of news expected as results from various programs are made available.
We continue to anticipate sustained share price growth in ARN in the lead up to good news including ongoing drilling and subsequent results in the coming weeks and months.
Why we like ARN:
Tightly held share register, including renowned geologist Dr Minlu Fu
Exposure to upside of a large nickel discovery
Nickel drilling - 5,000m targeting three high confidence targets
Spin out of gold assets allows ARN to focus on existing assets but retain exposure to gold exploration success.
New lithium acquisition gives it even more exposure to the battery metals revolution.
ARN Investment Strategy:
We expect ARN to deliver the following key milestones over the next 3 to 6 months and the share price to appreciate as the market speculates on a drilling outcome:
Key Team additions (✅ Dr Minlu Fu, internationally renowned geo)
Permits and Land rights (✅ all land rights and permits secured)
Drill targets identified ( ✅ some already found, potentially more to come)
Geological surveys and prep work (ongoing)
Drill rig secured (✅)
Drill rig mobilising to site (✅ Rig moving to site and drilling to begin in late July)
Key Catalyst: 5,000m of drilling begins (Coming days)
Divest Gold Assets: Gold spin out IPO goes live (Q3 2021)
Gold Spin out: ASX listing of new co (Q3 2021)
Completion of lithium acquisition: Completion of sales agreement between Meridian and ARN for the the acquisition of the adjacent Wyemandoo Project.
Note we plan to retain a significant position into the nickel drilling results which are hopefully positive.
---