WA Copper Stock - AKN - What we are looking to see next
Disclosure: S3 Consortium Pty Ltd (the Company) and Associated Entities own 1,515,152 AKN shares at the time of publishing this article. The Company has been engaged by AKN to share our commentary on the progress of our Investment in AKN over time.
When the majors make a move, it pays to take notice.
BHP is going hard into copper. Its recent $8.3BN bid for Oz Minerals made that clear.
Indeed, for the past few years, BHP has publicly acknowledged copper (and nickel) as its preferred commodities for growth.
We understand why - as the shift toward decarbonisation and electrification supercharges demand for the wiring metal.
Copper demand is tipped to grow some 53% through to 2040, primarily driven by the electrification of transport and infrastructure, according to BloombergNEF analysts.
We Invested in AuKing MIning (ASX:AKN) in February this year, seeking to add some more copper exposure to our portfolio.
What stood out with AKN was its JORC resource for its Koongie Park project in WA, which looked substantive when weighed up against the company's relatively low valuation.
However the big question mark with AKN, which remains to this day, is that some of this copper resource is found within an oxide deposit.
This requires significant metallurgical work (metwork for short) to find a suitable processing solution that allows extraction of the valuable commodities contained within the rocks.
Our big bet for AKN is that it can find a metallurgical solution that unlocks the currently stranded oxide resource, continues to grow their total resource inventory, then ultimately demonstrates so much value that AKN is either taken over by a bigger company or they move into production themselves.
Since our Initial Investment in February, AKN has grown its total JORC resource by 30%, which now stands at:
8.9Mt containing 1.01% copper, 3.67% zinc, 0.77% lead, 0.16g/t gold, and 26g/t silver (inferred and indicated)
Translating that into total contained metal, we have:
90k tonnes copper;
326k tonnes zinc;
46koz gold;
9.1Moz silver; and
68k tonnes lead.
However despite the 30% growth in resource size, the company's share price has gone in the opposite direction.
AKN is down ~40% since we first Invested, and currently has a market cap of ~$15M.
With more than $3M in cash (as of 30 June 2022), AKN is currently trading with an enterprise value of ~$12M.
As it's been a while since we checked in with our Investment in AKN, let's take a closer look and see how AKN is tracking against our Investment Memo, that we wrote when we first Invested in February 2022.
AKN's Koongie Park copper/zinc project is in Halls Creek, in the north east of WA.
AKN owns 75% of the project, which holds the JORC compliant resource of 8.9Mt — Astral Resources owns the remainder.
While it looks remote on the map and there are logistical challenges, Halls Creek is actually an established mining region with infrastructure in place.
The region is home to operational mines such as Pantoro Ltd's Nicholsons gold mine, Panoramic Resources' Savannah nickel mine, and Rio Tinto's Argyle Diamond mine.
This supports AKN in bringing its project into development or capturing the eye of a bigger company chasing more copper.
The map below shows where AKN's project sits within the Halls Creek region: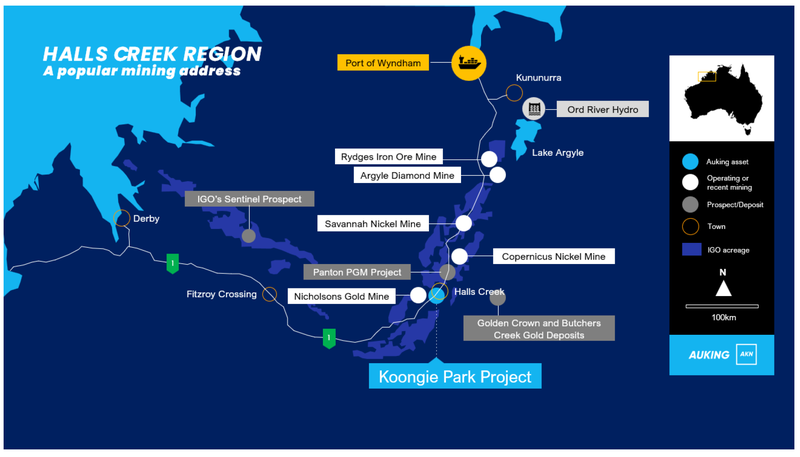 🎓 Understanding copper deposits - a quick explainer
Before we go any further, we need to talk about the main styles of base metals mineralisation where copper deposits are found — oxide, sulphide and transition ores.
Note that this is just a basic introduction that we have picked up as investors and speaking to industry folks - we aren't geologists.
Copper Sulphide Ore
Typically deeper and harder to find (as they have not been subject to millions of years of weathering), sulphide ores tend to have higher copper grades.
The contained copper - being the "primary" mineralisation - is more easily separated from its byproducts.
This means miners can utilise conventional extraction processes to get copper, usually by way of a flotation process.
Copper Oxide Ore
Copper oxide ores are more abundant than sulphide ores, and are found closer to the surface - having been the subject of weathering.
Various chemical reactions take place in the weathering process, changing the nature of the copper mineralisation and many of the minerals surrounding it. Often the copper mineralisation can be caught up in the matrix of other minerals as a result.
Its shallow nature means that the mining costs tend to be lower, HOWEVER copper oxide ores are often tougher to process as it's harder to separate the valuable copper from the other byproducts.
Acid leaching is the most common way to extract the copper from the ore.
Transition Ores
In between sulphide and the oxide ore zones is what's termed a "transition zone".
Here, a mixture of the deeper sulphides and the oxide mineralisation occur.
These zones often contain high grade mineralisation but can also be complex from a processing perspective.
Ideally, we would want to find copper and other valuable metals within a shallow deposit (making it easy to mine, with lower capital and operating costs), with high grades and hosted in easy to process rocks (i.e. sulphides).
Koongie Park has all three ore types within its deposits.
The main deposits to date are Onedin, Sandiego and Emull - there are several more, but they are at much earlier stages of exploration.
Here is our own current ranking of these deposits, based on:
JORC resource - The size and classification of the resource (Measured/indicated is better than inferred).
Depth - the shallower the mineralisation, the cheaper and quicker it is to develop/mine
Host rock - sulphides are generally easier to process than oxides and transition ores.
Permitting status - granted mining lease paves the pathway to a mine.
A ✅indicates the ideal attribute for the deposit, whereas an 🟠signifies more work required. A ❌would indicate a major obstacle to further progress.
1) Onedin
✅ JORC resource - 4.8Mt @ 0.68% copper, 3.15% zinc, 0.13g/t gold, 38g/t silver and 1.07% lead, Indicated
✅ Depth - Shallow - potential for open pit
🟠 Host rock - Oxide deposit - complex metallurgy
✅ Permitting status - Has a granted mining lease
What we are waiting for:
AKN is working on a metallurgical solution to be able to process this ore - we are looking forward to seeing what kind of copper recovery rates AKN can achieve.
Here's a quick guide to what success would look like to us:

Additional Upside:
If AKN can hunt and find the conductor source at depth.
2) Sandiego
✅ JORC resource - 4.1Mt @ 1.38% copper, 4.28% zinc, 0.2g/t gold, 25g/t silver and 0.41% lead, Indicated and Inferred
🟠 Depth - Deep - more costly to develop
✅ Host rock - Sulphide deposit
✅ Permitting status - Has a granted mining lease
What we are waiting for:
Assay results from the latest round of drilling, to further prove up the resource.
Additional Upside:
If AKN can hunt and find the conductor source at depth.
3) Emull
🟠 JORC resource - Non-JORC 2012 resource 4.7mt @ 4.5% zinc, +0.33% copper, 0.2% lead (the resource was calculated using the old JORC code).
✅ Depth - Is shallow - potential for open pit
✅ Host rock - Is a sulphide deposit
🟠 Permitting status - Exploration permit - need to progress to Mining lease
What we are waiting for:
Reclassification of resources to JORC standard, and testing of magnetic anomalies along strike.
Note: AKN is also drilling the Cosmo prospect, about 500m from Onedin. This is still an early stage prospect, so we haven't included it yet. However AKN has recently drilled several holes here, so it will be interesting to see what the assays return.
Our commentary on these deposits:
Overall, we've weighted having a JORC resource highly, followed by depth. This places Onedin at the top as it has better grades than Emull at the moment.
However, if no metallurgical solution can be found to extract the valuable metals from the Onedin ore, then it doesn't really matter how big or easy to mine it is.
The key thing for AKN is to get its Onedin metallurgical work done, and demonstrate to the market that this deposit is mineable.
If AKN can prove this with strong recovery rates using this ore, we would expect a large re-rate in the company's share price.
The key word above is 'if'.
Meanwhile Emull could leap-frog to the top of our rankings, subject to its resource being re-classified to JORC standards, and subject to size and grade.
Let's take a closer look at why AKN considers the Emull deposit as 'pivotal'.
You've got Emull - could this be pivotal to AKN?
Last week, AKN released results of infill drilling at Emull, intercepting low grade copper ranging from 0.33% to 0.46% over intercepts measuring as thick as 89m.
Importantly all of these intercepts came from shallow depths starting as low as ~34m.
Emull was originally one of Northern Star Resources' listing assets back in the early 2000's — at the time it was Northern Star's only non-gold project.
Northern Star drilled some 88 holes before putting together a resource of ~4.5mt with copper grades of ~0.33%, before letting the asset go as the company squarely fixed its focus on gold.
Note that the Emull resource was defined under an old JORC resources code, prior to the current JORC 2012 standards.
At the time, Northern Star viewed its projects in the Halls Creek region as some of the most prospective ground in WA for nickel-copper-PGE.
It even mentioned that advancements in exploration technology could be the key to unlocking the potential of the region. We found this information from Northern Star's 2003 IPO prospectus (sorry for the low resolution image, however you can click on the image for the full read):

Fast forward 19 years and AKN is back drilling the project, looking to apply modern day exploration techniques to see just how big the deposit might be.
With the deposit having several untested geophysical anomalies to the northwest along strike and to the southwest of the known mineralised area, we look forward to seeing just how big it might be.
These untested geophysical anomalies are where we see the upside potential for Emull.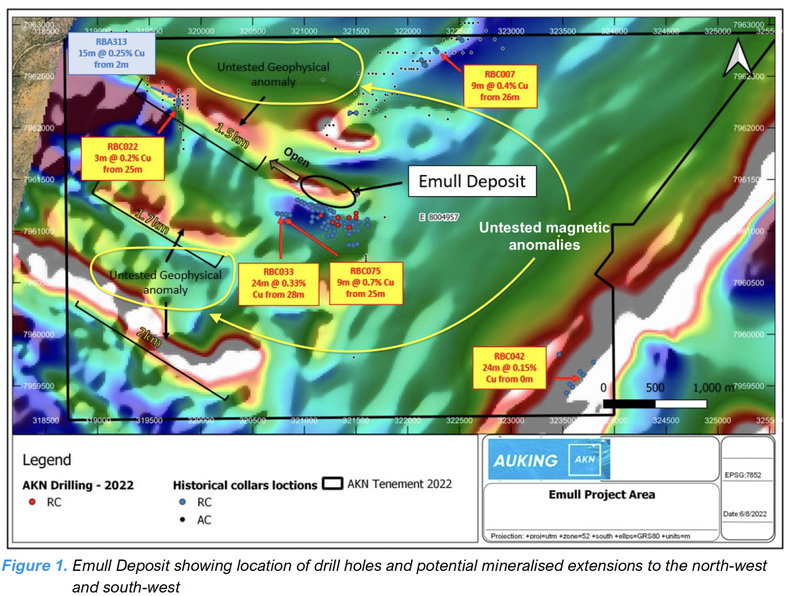 In the near-term, there's opportunity to bring the old Emull resource to current JORC standards, and incorporate it into the broader Koongie Park's total resource estimate.
This is primarily a database exercise, as AKN already has plenty of historic drilling data to incorporate, thanks to Northern Star.
As such, we wouldn't be surprised to see an updated resource estimate later this quarter, or perhaps early in the following quarter.
As mentioned earlier, the mineralisation at Emull was found mostly as sulphides in the primary zone — similar to that at the Sandiego deposit — hence is amenable to conventional extraction methods.
Provided the mineralisation is continuous and is of economic grade, which further drilling will determine, Emull is shaping up nicely as a possible shallow, bulk-tonnage, open-pittable deposit... and likely jumps to the front of the line in terms of development potential for AKN.
Understandably, AKN has already greenlit more drilling at Emull for this half year - we will provide updates as they progress.
How is AKN faring? The mid-year report card
When we first Invested in February 2022, we wanted to see AKN deliver the following over a 12 month period: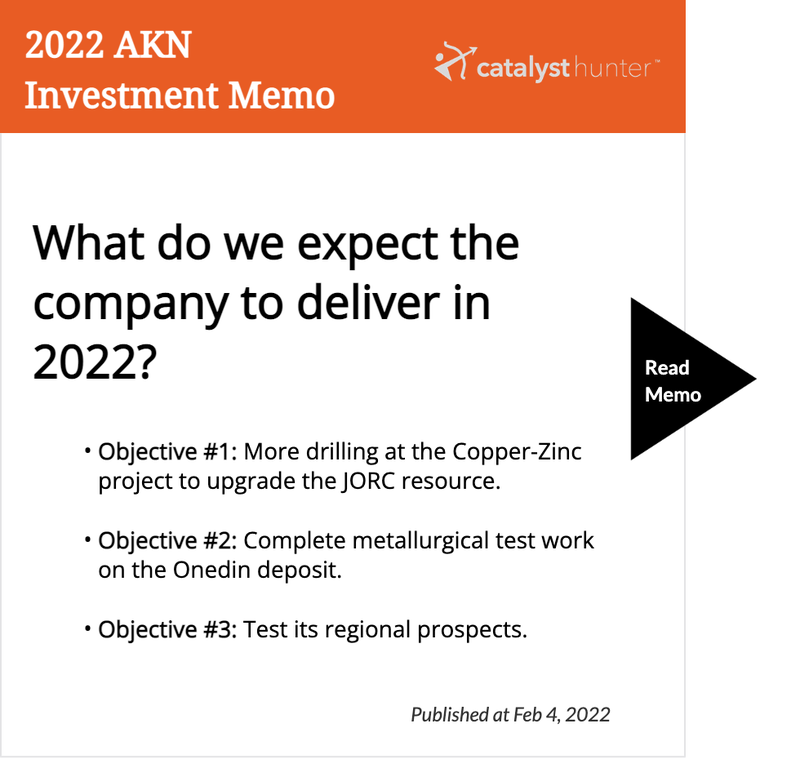 As we are now halfway through the 12 month period since we wrote our memo, let's see how AKN is progressing against our objectives.
Objective #1: More drilling at the copper-zinc project to upgrade the JORC resource.
Our view:
AKN has been busy with the rigs, and we've liked what we've seen with drilling Onedin and Sandiego.
The fruition has been a 30% upgrade to the total JORC resources, with more to come.
AKN has delivered on this objective, and upgraded the JORC resource.
Objective #2: Complete metallurgical testwork on the Onedin deposit
Our view:
On this front, progress is being made, but no silver bullet solution just yet. We had hoped that this could be found in 1H22, but we're still waiting.
That said, we're buoyed that recent metallurgical testwork has established the existence of secondary carbonate species in the Onedin mineralised zone, and demonstrated the potential to achieve recovery rates above 75% for the copper, zinc and other minerals hosted within those carbonates.
More work is required, so let's see how this plays out over the coming 6 months.
Objective #3: Test its regional prospects
Our view:
We wanted to see drilling at Emull and AKN has delivered this.
We've gone into what significance Emull could hold for AKN above, and look forward to seeing what the next campaign delivers later this year.
It seems a formality that a significant upgrade to the total Koongie Park JORC resource will occur on the back of the results at Emull.
Furthermore, maiden drilling of the Cosmo prospect has already taken place, so it will be interesting to see what the assays return here.
What could set the market alight?
Nothing gets the market interested in a junior explorer as making a new discovery.
On this front, AKN has several opportunities as follows:
Onedin - hunt for the conductor source at depth
Sandiego - hunt for the conductor source at depth
Emull - testing the magnetic anomalies along strike to the northwest and southwest
Cosmo - several assays at the labs now
Probably not as interesting for short term speculators, but very significant for AKN, would be uncovering a metallurgical solution to process the Onedin oxide ores, which is our Objective #2 above.
This would deem that deposit as worthwhile to continue to develop - which is important given its shallow nature and decent grades.
Finally, incorporation of the Emull resource into the total Koongie Park JORC resource is on the horizon.
Obviously there are scale advantages to having more tonnes, making a project more likely to get off the ground, all else being equal.
Given the current non-JORC Emull resource is 4.7mt @ 4.5% zinc, +0.33% copper, 0.2% lead, if AKN can convert all of this into current JORC classification, we would consider this par for the course. Anything above would be a positive.
What could go wrong?
The exploration game is very much a high risk, high reward game, as more often than not, drilling and met work doesn't unearth the much-hoped for economic discovery... leading to juniors needing to continue to tap investors for working capital in order to survive.
So what are the specific risks for AKN?
These are the three main ones we see:
Metallurgical risk. The shallow part of the JORC resource that can be quickly mined at the Onedin deposit is made up of oxide-hosted copper mineralisation. As we covered above, oxide ore is more complex to process, and with AKN's resource in particular, previous attempts to find a processing solution have failed. There is no guarantee that a solution will be found and if that is the case, the resource will be deemed stranded. We think this is how the market is viewing AKN right now.
Exploration risk. AKN is still defining resources through drilling, aiming to continue to grow its resources. Even with JORC resources, these are still an estimate of what commodities are prevalent underground. There is no guarantee that more resources will be found, nor that the actual resources defined to date are not overstated.
Funding risk. As a small cap explorer, AKN is not generating revenues, and so remains reliant on capital markets to continue to fund its activities as it tries to build the value of its ground. Market conditions turning negative could mean getting non-dilutionary funding becomes difficult. In fact we saw this earlier in the year when AKN tried to raise capital in May at a time when sentiment for micro cap resources stocks was low.
What's next for AKN?
Here is what we expect to see for the remainder of the year from AKN:
Onedin deposit:
Further assays for the Onedin conductor sources
Metallurgy work progress for Onedin
Sandiego deposit:
Further assays for the Sandiego conductor sources
Emull deposit:
Further assays from the recent round of drilling at the Emull deposit.
Another RC drilling program to be undertaken later this year, both at the main Emull deposit area and to the northwest anomaly
Preparation of a maiden JORC compliant resource estimate for Emull
Other prospects:
Several assays from Cosmo prospect
Upgraded project wide mineral resource estimate for Koongie Park which includes the resource from Emull (if a maiden JORC resource is announced for it).
AKN Investment Memo and what we want to see in 2022:
Below again is our February 2022 AKN Investment Memo where you can find a short, high level summary of our reasons for investing at the time.
The ultimate purpose of the memo is to record our current thinking as a benchmark to assess the company's performance against our expectations 12 months from now.
In our AKN Investment Memo you'll find:
Key objectives for AKN in 2022/2023
Why we invested in AKN
What the key risks to our investment thesis are
Our investment plan
Disclosure: S3 Consortium Pty Ltd (the Company) and Associated Entities own 1,515,152 AKN shares at the time of publishing this article. The Company has been engaged by AKN to share our commentary on the progress of our Investment in AKN over time.
---